Reconstructed Climate Indices
You can download all data without password.
Please cite original publications, online resources and date accessed when using these data.
---
July Mean Temperatures at Hachioji (35.64N 139.30E) in western Tokyo, referred to JMA Tokyo Met. Obs. (35.69N 139.76E) DATA
Parameter: temperature
Data coverage: 1721-1941(Hachioji), 1876-2017(Tokyo)

Mikami, T., 1996. Long term variations of summer temperatures in Tokyo since 1721. Geographical Reports of Tokyo Metropolitan University 31: 157-165. PDF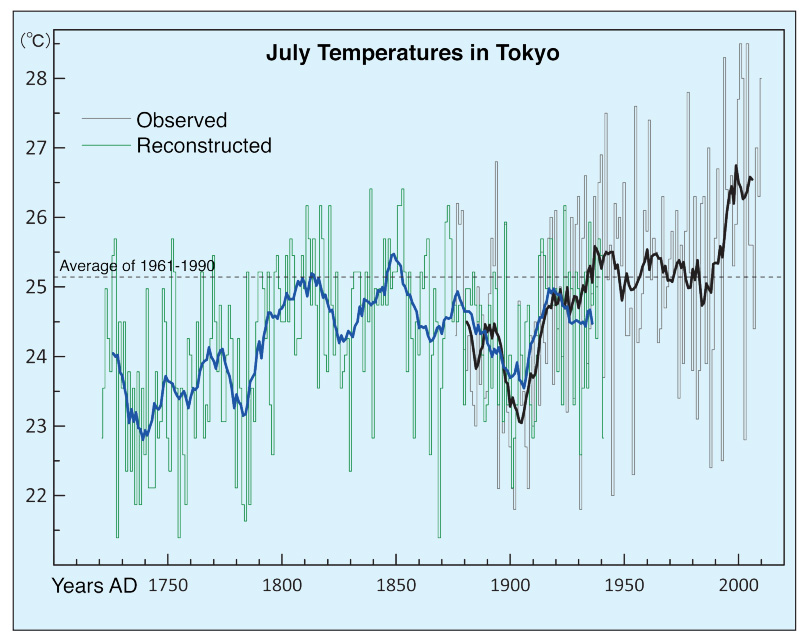 Time series of reconstructed (green lines) and observed (black/gray lines) July temperatures in Tokyo for 1721-2010. Thin lines indicate year-to-year variations and thick lines indicate 11-year running mean. Figure modified and updated from Mikami (1996).  Source :  PAGES news • Vol 20 • No 2 • December 2012
July Maximum Temperatures at Kawanishi (38N 140E), referred to JMA Yamagata Met. Obs. (38.26N 140.35E) DATA
Parameter: temperature
Data coverage: 1830-1889(Kawanishi), 1889-2010(Yamagata)
Hirano J., Ohba T. Morishima W., Zaiki M. and Mikami T. 2013. Reconstruction of July temperature variations since the 1830s in Kawanishi based on historical weather documents. Geographical Review of Japan (Series A), 86: 451-464. (in Japanese with English Abstract).
DJF Minimum Temperatures at Kawanishi (38N 140E) , referred to JMA Yamagata Met. Obs. (38.26N 140.35E) DATA
Parameter: temperature
Data coverage: 1831-1889(Kawanishi), 1889-2010(Yamagata)
Hirano J, Ohba T, Morishima W, Mikami T. 2012. Reconstruction of winter temperature since the 1830s in Kawanishi based on historical weather documents. Geographical Review of Japan 85: 275-286 (in Japanese with English Abstract)